Personal Finance Columnist, Liz Weston is a client of ours who also has written some awesome articles about her experience with Authority Auto. This week, we're featuring Liz as a "guest blogger" of sorts! :) Check out her article below: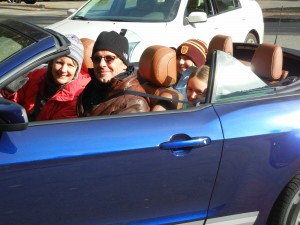 How I Outsource My Life (Part 1)
By: Liz Weston
When money is tight, DIY is the way to go. Cleaning your own house, cutting your own hair, even changing your car's oil can make sense.
I've done all those things. I don't anymore. Because at some point, hopefully, you start to make more money and your spending decisions become more about saving time…and improving the quality of your life.
I've been thinking about this lately because I've outsourced a few new tasks—big ones. And I've been really happy with the results.
I'm not new to outsourcing. I hired my first house cleaner in my early 30s, even though I cleaned houses in college and got pretty good at it. Long hours as a newspaper reporter made the help seem like an achievable luxury. Then I got married, and outsourced housekeeping became a key part of a happy marriage.
Somebody else cuts my hair and changes my oil now, too. I've experimented with virtual assistants, delivery services and other ways to free up time, with generally good results.
But these latest ventures into outsourcing have been "wow" experiences—as in "Wow, this is great! Why didn't I do this sooner?"
I'll be writing about my experiences with outsourcing over the next few weeks. Here's the first one:
A car purchase. Hubby wanted a new car, and we can afford this luxury, so I started my usual round of email queries to various dealers' Internet departments. Only, the holidays were approaching. And I wanted to plan our daughter's Harry Potter birthday party. We had two trips coming up, plus I was promoting two books. With everything going on, I quickly lost patience with dealership games.
Instead of offering me quotes on the car we wanted, salesmen claimed the cars were in short supply, or that they had the car but I had to come to the lot, or—my personal favorite—they tried to sell me a different car. (We wanted the convertible automatic transmission in black or blue; one dealership sent a quote for a white hardtop, manual transmission.) I thought I had a deal with AutoNation to special order the car for a decent price–$1,500 below invoice—but after leaving voicemails and emails with my rep saying I wanted to pull the trigger, I never heard back.
So I called up Oren Weintraub at Authority Auto, a car concierge I'd interviewed a few weeks before as part of a column on "Take the hassle out of car buying."
Oren found the car we wanted within hours (turns out it wasn't as scarce as the dealers had told me). He negotiated a price $2,000 below invoice, and came up with a good deal on our trade-in ($1,500 more the average trade-in value, according to Edmunds.com). Authority Auto dropped off our new car and picked up the old one. We never had to set foot in the lot, and the whole thing was done within a few days of our first conversation.
We paid $795 his services. It was worth every penny. Now I can't imagine buying a car any other way.
I originally hesitated at hiring a car concierge because I was pretty sure I could negotiate a better deal, once the concierge's fee was added in. After this experience, I'm not so sure. And when you add in the luxury of having the car delivered to your door…well, I'm sold.