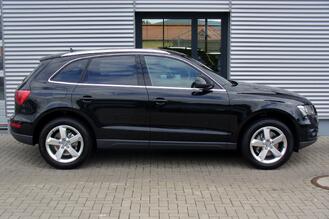 This week's testimonial comes from our client Ameet K. Oren helped them get into their new Audi Q5, and this is what they had to say about their experience:
I worked with Oren, the president of the company, and chatted on the phone with him for maybe 20-30 minutes about what I was looking for and the features that were must haves vs non-necessities. I love reading about cars and learning about the latest and newest features.
So, I already knew which car I wanted and the names of all the various packages each year's model could come with (I was looking for an Audi Q5, either new or certified pre-owned). Oren listened very carefully to all my requests and questions and answered them honestly and thoroughly. Basically, his service allows you to take all the stress out of the car buying experience. You pick which car you want. You tell him exactly what you're looking for. And he does the rest. And he KNOWS WHAT HE IS DOING!
Talk about having an expert in your corner. I mean, I've bought cars before and while I felt like I got a good deal and was happy in the end, in this experience, I walked out of that dealership KNOWING I COULD NEVER HAVE NEGOTIATED THE DEAL THAT OREN DID. And I got exactly what I wanted. And I didn't have to deal with sitting there, haggling with the salesmen, while they ran to their managers to seek approval, only to have them come back with minimal compromise.

This time, Oren did all that for me. He researched the car I chose, looked for new and CPO models, and after finding one, contacted me and told me he had a good contact at the dealership where the car was located. I found the car on-line, read about it, made sure it had all the things I wanted, and told him to go ahead and negotiate a deal. He brought the dealer down by thousands of dollars! I mean, the price I paid for it was lower than the car is actually worth! I know the dealership made money on the car or they wouldn't have sold it. And it was a trade in so they probably gave the guy who turned it in a low amount for it. So they turned a profit undoubtedly. But the key thing to remember is that I got a sweet deal out of it too, one that I would never have been able to get on my own. And I didn't have to do the negotiating.

Last thing, since I already wrote a lot...is that Oren was on-call for me the day I went to purchase the car. He was by his phone, answering my questions and giving me advice about how to handle things at the dealer. He wasn't pushy. He made sure this was the car I wanted. He did his research though and he knew that the deal he was getting on this car was awesome. And I could tell in his voice and in his tone that there was genuine sincerity and an excitedness for a customer that he was able to help. I am very thankful for his help because he really made this the easiest and most stress-free car buying experience I have ever had. I will definitely use his service again. HIGHLY RECOMMENDED!!