Today's testimonial come from our client S.L. in Vegas, we helped them with their new Audi! Here's what they had to say about their experience with Authority Auto: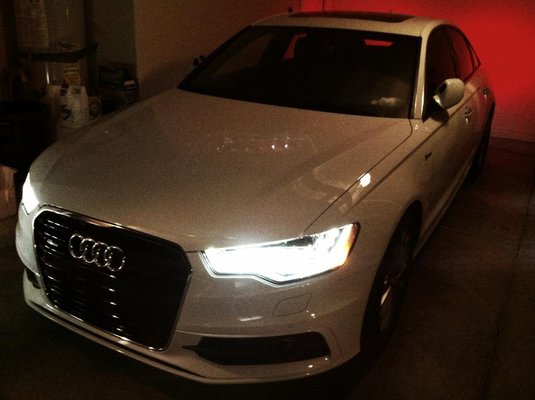 Authority Auto lives up to the hype -- they make car buying SO simple, AND they saved me time and money.
From start to finish, the process was simple, friendly and zero stress. All it took was a few emails and phone calls to get the car I wanted. The specialist I worked with was very patient and friendly. My entire interactions with him totaled no more than 30 minutes, but at the end of the purchasing process it felt like I'd known him for much longer than that (in a good way!).
It's worth pointing out that all Authority Auto employees have previously had at least management-level experience working at dealerships, so all of the stressful, time-consuming and complicated aspects of negotiations were completely handled by Authority. Although I did a bit of research myself on how to negotiate for a car before finding Authority Auto, I am so glad that they were able to take all of this off my hands.
Even the pick-up process at the dealer was painless--after inspecting the car, test-driving it, and then signing the papers, I was off the dealer lot and headed home within 30-45 minutes. It's worth noting there was zero pressure from the fleet manager at the dealer; no upsells, nothing but good customer service.
They also made themselves available for any calls during the dealer pick-up process, in case anything went wrong or if I had questions. Nothing went wrong and I had no questions, and in fact they had to call ME to make sure everything was okay because I was having too much fun driving my car home!
BTW, one big note: Authority Auto can have the dealer drive the car to your home, but I was an exception as I was an out-of-state buyer with a special request: I actually had an upcoming, pre-planned trip to Southern California, and wanted to try getting my car there instead of my home state (the dealers here are notorious for not "playing ball").
I therefore asked them to see if he could help me with the logistics of 1) selling my trade-in and 2) picking up a new car in California. Not only did Authority make this all possible, but they were able to find the car I wanted in half the time (I gave them a deadline of two weeks; they got my car in one week) and save me money.
How much money? According to TrueCar.com, Authority Auto saved me $1400 under invoice, $1900 under what other buyers typically negotiated, and almost $5000 under MSRP.
Oh, and they threw in two unexpected bonuses: $0 due at signing, and I didn't have to pay my first month's payment. This when I was expecting to pay a total of $2000 or so at signing. My monthly payment was also $150 less than what I was expecting to pay.
I therefore
could not be more satisfied
with my experience with Authority Auto, and will definitely use their services for my next vehicle. If you're on the fence, shoot them an email or give them a call--
they're happy to explain their services to you and answer any questions you may have.