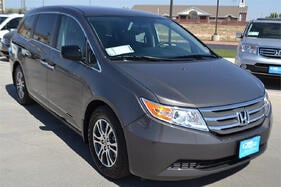 I am 100% satisfied with our new Honda Odyssey purchase through Authority Auto, and working with Oren was a real pleasure.
Moving back to the US from overseas, we needed a new minivan for our large family and needed it immediately. Also it's been several years since I negotiated a new car purchase, and I never feel like I get the best deal to be had. Further, in the last few years I've learned the value of paying for expertise...find the right lawyer, the right CPA, etc. and you'll thank yourself in the end. I figured, why not try offloading the car purchase to a professional who is 100% on my side?
I did some research, and liked Authority Auto's fee structure, since it wasn't highly tied to purchase price. It aligned AA's interests to mine. I thought that if they saved me at least the service fee, it would be a nice experiment and I wouldn't need to sit in a car dealership all day (which is on the list with the dentist's chair in my book).
It's time for the model changeover at Honda, and 2014's were now on the lot, along with a number of remaining 2013's. I figured anyone would get a good deal from a large dealership at least at invoice, maybe a tad lower, if they worked hard enough.
Boy was I blown away at the final deal. Oren found a 2013 in the color we wanted, with all of the features we wanted, had it transferred to a dealer close to our home, and negotiated a price significantly below invoice representing an approximately 20% discount vs. MSRP. I know I could never have gotten that deal, and would have never wanted to spend the time necessary to try, let alone organize the transfer of a vehicle from elsewhere in the state, etc. I had a couple of calls with Oren to discuss; very brief. He kept me posted as the deal progressed, and gave me the final details on the pickup date. The dealer we were working with wouldn't deliver the car to our home, but that wasn't a big issue for us. It was close by. We were in, test drove the van, confirmed the specs, signed the papers, and were out in under an hour. No crazy upsells, attempts to renegotiate the deal, or funny business with the paperwork. The dealer was very pleasant and even took the time to pair my wife's phone to the bluetooth & setup her favorite radio stations.
One final item, we were going to pay cash, but Oren called at the end and let me know about a deal Honda was offering for a $500 rebate if you used their 0.9% financing. Since there is no pre-payment penalty it was a no-brainer to finance a portion of the vehicle to get an additional $500 "off" in the deal.
Very happy and will definitely use again.