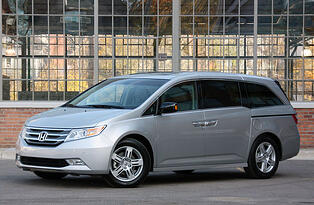 This week's testimonial come from our client Adam J. Oren helped him get into his new car a few years back and we've always loved what he had to say about his experience:
I gotta hand it to Oren (the President) at Authority Auto. He and his team were fantastic and helpful from start to finish. I will admit that my case was a bit odd...due to the Japan earthquake, the car I wanted wasn't in stock anywhere for months.
But that didn't stop them from looking high and low for me, and eventually found me just what I wanted from a dealership that was all the way up in Beverly Hills. But Authority did ALL the legwork, including getting the car delivered to me! I never had to drive to the dealer once. None of that nonsense trying to be sold on all those crazy options, coverage plans, rust coatings, extra insurances, etc.
Once Authority sent me a PDF listing the car's details, options, and pricing, I had the opportunity to look it over and decide if it was right for me. They're very easy to work with and never try to pressure you into a car you don't want. If you're not happy, you just say no and they'll go find you something that meets your needs. They were immediately responsive via email and phone whenever I had questions, and are there for you until you can find the car you want.

Once I gave them the go-ahead on the car I wanted with the options it had, they contacted the dealer and secured me the car. They even got me on a 3-way call with the dealer so I could ask any questions and clarify the process with them. After signing and returning some documents via e-mail, I literally had the car DELIVERED to my front door by 12pm the next day! The gentleman that delivered the car was extremely helpful and knowledgeable, and walked me through every feature of the car, helping me setup the bluetooth, garage opener, etc. Once I was comfortable with everything he left me the car and that was it!

I know for some people, the cost of a car is enough, and paying even more to have someone help you might not seem worth it, but if you literally want to do almost no work except for the fun parts (picking out the car and having it show up at your house) then these folks are for you. I would gladly pay to not have to sit at a dealer for hours on end, haggling on price, trying to figure out lease terms, optional packages, etc. Definitely give them a shot for your next car. Now that I've experienced it I wouldn't want to buy one any other way!