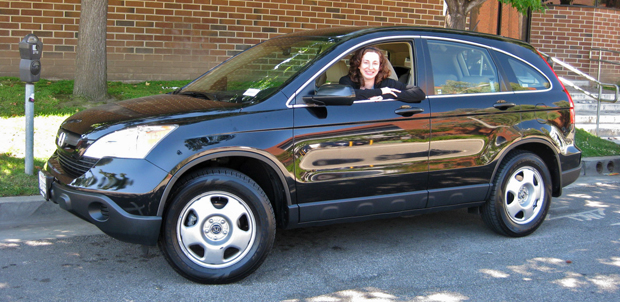 Some time ago, we did an article on using a car buying concierge. We peppered Oren Weintraub, the President of Authority Car Buying Specialists with a number of questions. Although we came away feeling that this likely makes sense for a lot of people, we hadn't actually used it, given it the acid test, as it were. Until now, that is.
We, or more accurately our own Senior Editor Bryn MacKinnon, recently had the occasion to try out Mr. Weintraub's service. Bryn, a mother of one who is expecting another little bundle of joy shortly, needed a roomy family vehicle. And as both she and her husband work full-time, they decided to go with the car concierge service.
Here, in Bryn's words, are her thoughts on how the process went:
Although it's a little embarrassing to admit, since I work at Edmunds and you'd think I'd be raring to "do my own deal" myself, my husband and I decided to go with a car-buying concierge service. We were in the market for a pre-owned compact minivan or crossover SUV to replace my too-small Civic coupe.
Both of us work full-time, have a 4-year-old to take care of and another baby on the way, and the idea of doing the extensive research required to find a good car was just too much. We decided it was worth the money to pay Authority Auto's Oren Weintraub to do the legwork and the negotiating necessary to find us a new (to us) car. And we are so happy we decided to go with this auto concierge service.
We were looking for either a used Mazda 5 or a used Honda CR-V. It only took Oren one day of searching to find us a great deal on a great car. We ended up getting a certified pre-owned 2007 Honda CR-V with 41,000 miles on it for $15,000. Edmunds TMV for that vehicle (remember it is a more desirable CPO vehicle) is $17,882.

It was such a pleasant experience -- we didn't have to negotiate at all. Oren did everything ahead of time and gave us an out-the-door price via email. We just showed up at the dealership, gave the car a test drive and a once-over to make sure it was the right car for us and then filled out the necessary forms. Even our experience in the F&I room was smooth and easy, thanks to Oren's firmly reminding what our expectations were (meaning we wanted no negotiating and no last-minute push of products like extended warranties).
Although the service's fee varies according to the price of the car (i.e. the more expensive the car, the higher the fee), in our case it was a total of $945. That was $695 for the shopping/negotiating aspects of the new car and an additional $250 to take care of the trade-in. So even after factoring in his fee, we still saved nearly $2,000 ($1,937 to be exact) not to mention a lot of time and potential headaches!
Considering saving time, money and hassle with a car concierge service?
Fill out the form below and we will give you a FREE Consultation to see if our service is right for you!